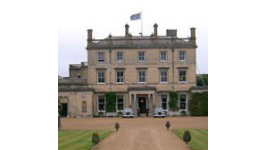 Immaculate service you provided
Michael, I would like to thank you for the immaculate service you provided, once again, this time for my second daughter's wedding. The pre-event planning made by your company ensured the drivers were fully au fait with every inch of the drive, incorporating a number of photo opportunities en route. It was most fitting to arrive with my daughter in the silver Rolls-Royce and this, and the silver Bentley were presented immaculately. Your drivers were most considerate and accommodated the Bride and Groom's wishes. It was as ever a pleasure to work with you and your team and much appreciated. I look forward to working with you again when we have a very special family occasion.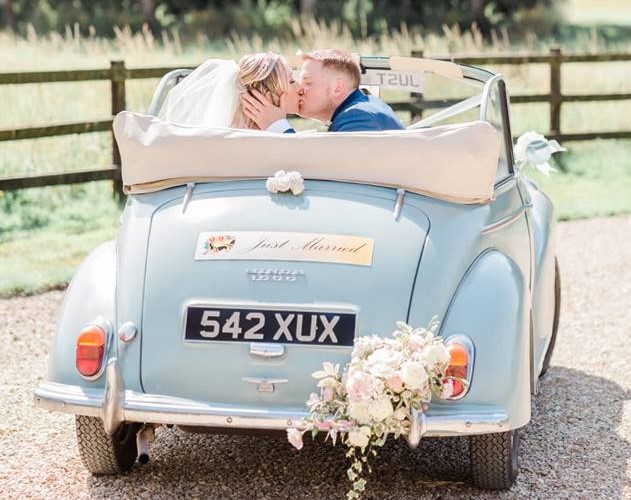 Huge thank you
Dear Didier, We would like to say a huge thank you for supplying our wedding car for our big day. All the correspondence we had with you leading up to the day was brilliant, you really helped to make us feel relaxed about the transport for the day and knew we were in good hands, you answered all my questions with no issues. On the day our car arrived early, happily placed our decorations onto the car and we had the most wonderful driver. We hired the pastel blue coloured Morris Minor from the Bournemouth area and our driver was absolutely fantastic - he made us all feel at ease, was extremely friendly, helped me with my dress, took lots of photographs for us, stayed for ages at the venue to have photos with the car and even let the guests have a go at riding in the car! I would attach a photograph but not sure how! Thank you!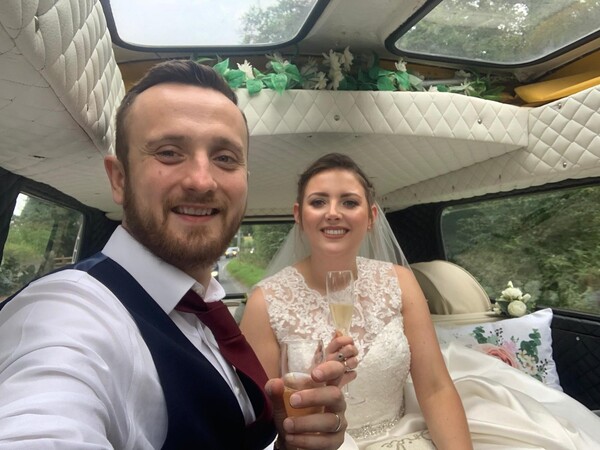 I cannot speak highly enough about Didier and Premier Carriage
At 4:45pm on the day before our daughter's wedding we were let down by our wedding car company. I rang Premier Carriage and, within 15 minutes Didier had found us a replacement which was almost identical to the original. Half an hour later everything was arranged, we'd spoken to the chauffeur and crisis was averted. What makes this even more impressive is that is was a very specific vehicle (VW camper van) and a challenging trip (90 miles from church to reception with photo stop detour on the way). Our driver, Jonathon, was prompt, friendly and fun, the vehicle was stunning and everything worked to perfection. I cannot speak highly enough about Didier and Premier Carriage. With virtually no notice, they pulled out all the stops and helped my daughter and son-in-law to have a perfect, stress-free day. I would not hesitate to use them again and will be forever grateful for their supreme efforts.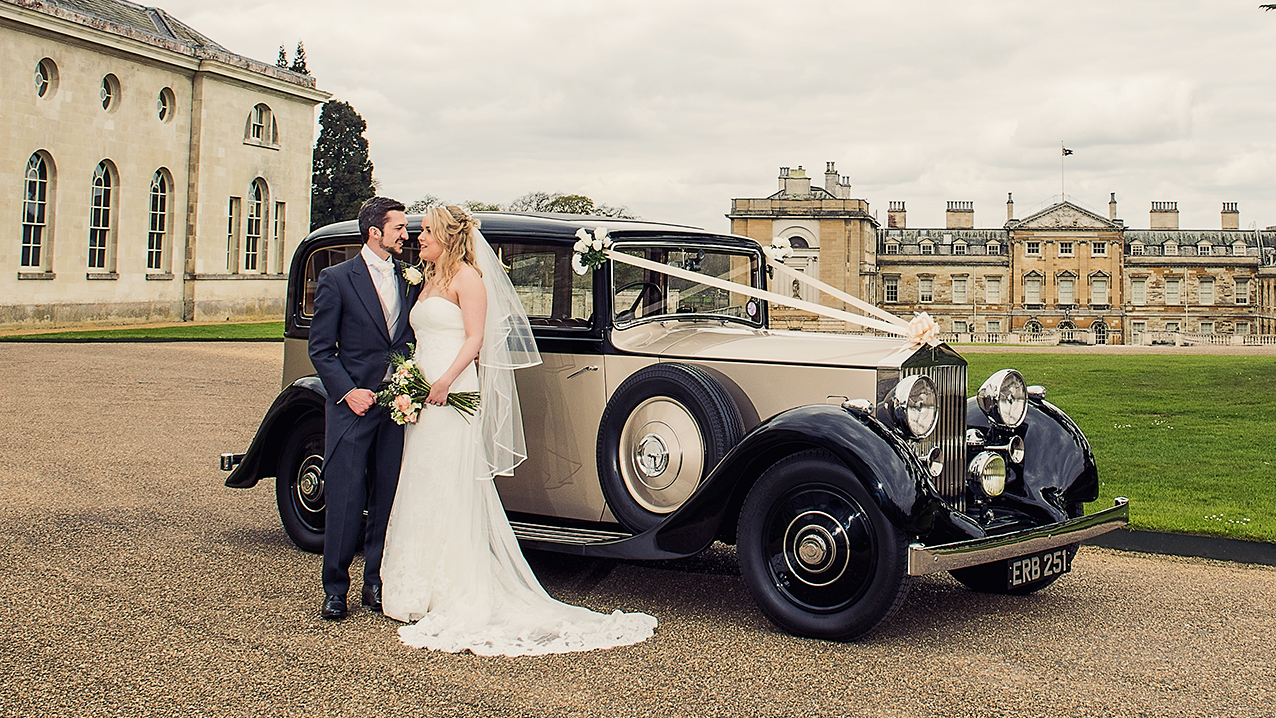 Thank you for the car and for your help organising
Just wanted to say thank you for the car and for your help organising. Paul was wonderful as our driver and we greatly appreciate it! We had a wonderful day and the car was amazing! Thank you very much, Justin and Fran.
Car is amazing and everyone loved it
To lyn, We want to say a massive thank you for your serivce at our wedding. Your car is amazing and everyone loved it. Thank you, Love, Matthew & Chelsea.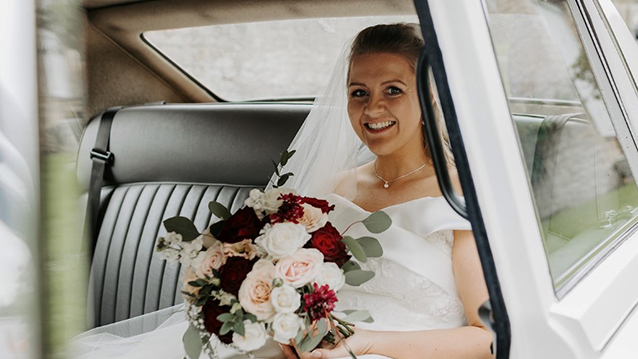 A huge thank you to your driver
Good afternoon, We just wanted to say a huge thank you to your driver, Joe, who drove my parents and me on my wedding day last week. The car itself was beautiful and definitely made my journey to the venue feel extra special and Joe was wonderful. He was attentive and helpful and made us feel so relaxed. I've attached a couple of pictures for you. Many thanks again, Hannah & Luke.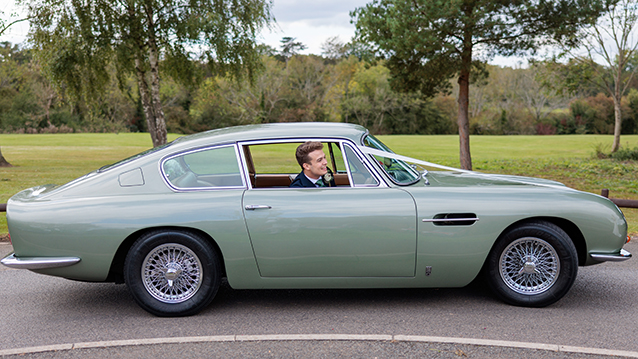 The car arrived with plenty of time
We are so pleased that we picked Adrian and his car for our wedding day. The car arrived with plenty of time and was immaculate. Adrian was friendly, chatty and happy to answer any questions that we had around the car letting us have a lot of photos which made our experience all the more special. We would 100% recommend. Katy & James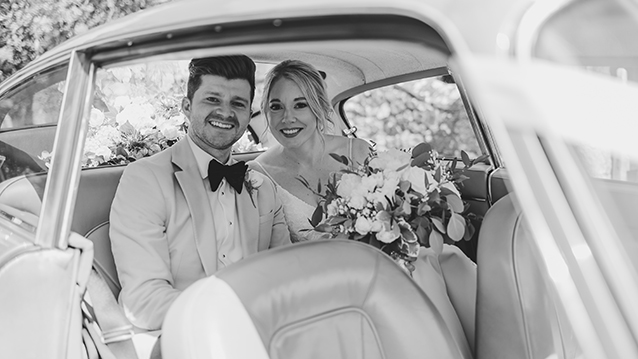 Grateful and happy with the incredible service
We couldn't be more grateful and happy with the incredible service Adrian supplied before, during and after our wedding. The car proved to be undoubtedly one of the highlights of the day and we still keep getting incredible feedback from guests on just how stunning the car was. Adrian himself made us feel at ease throughout the whole process and even made sure the flowers in the car matched our colour scheme. He is a credit to his business and we can't recommend him and his impeccable car highly enough. Thank you once again, Chris & Chessy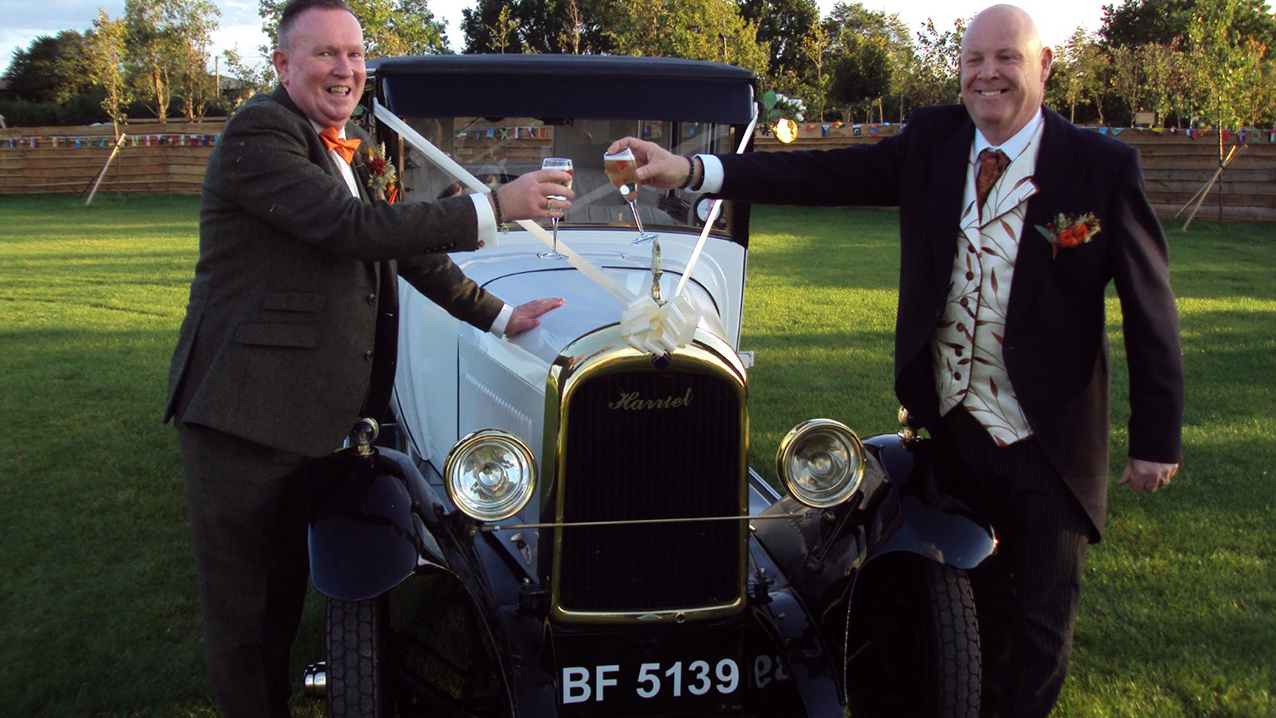 We loved every minute of it
We had an amazing blessing and Steve loved the surprise of Paul arriving with the car, it couldn't have gone better! Thank Paul for the photos and making our day so special, we loved every minute of it. Best wishes, Josh and Steve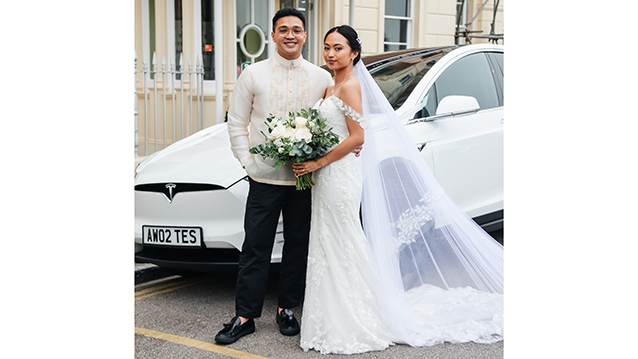 Excellent service during our wedding day
Hello Didier, My wife and I thank you for providing excellent service during our wedding day. Our parents, guests and ourselves felt very comfortable and safe whilst travelling to and from our ceremony and our reception. We really appreciate the effort that you made during the day and managing to stick to the schedule despite the heavy traffic that we experienced during the day. We hope to work with you again in the future. Please find some of our pictures attached showcasing the vehicle. Please feel free to include it on your website. Many thanks, Andrew & Dianne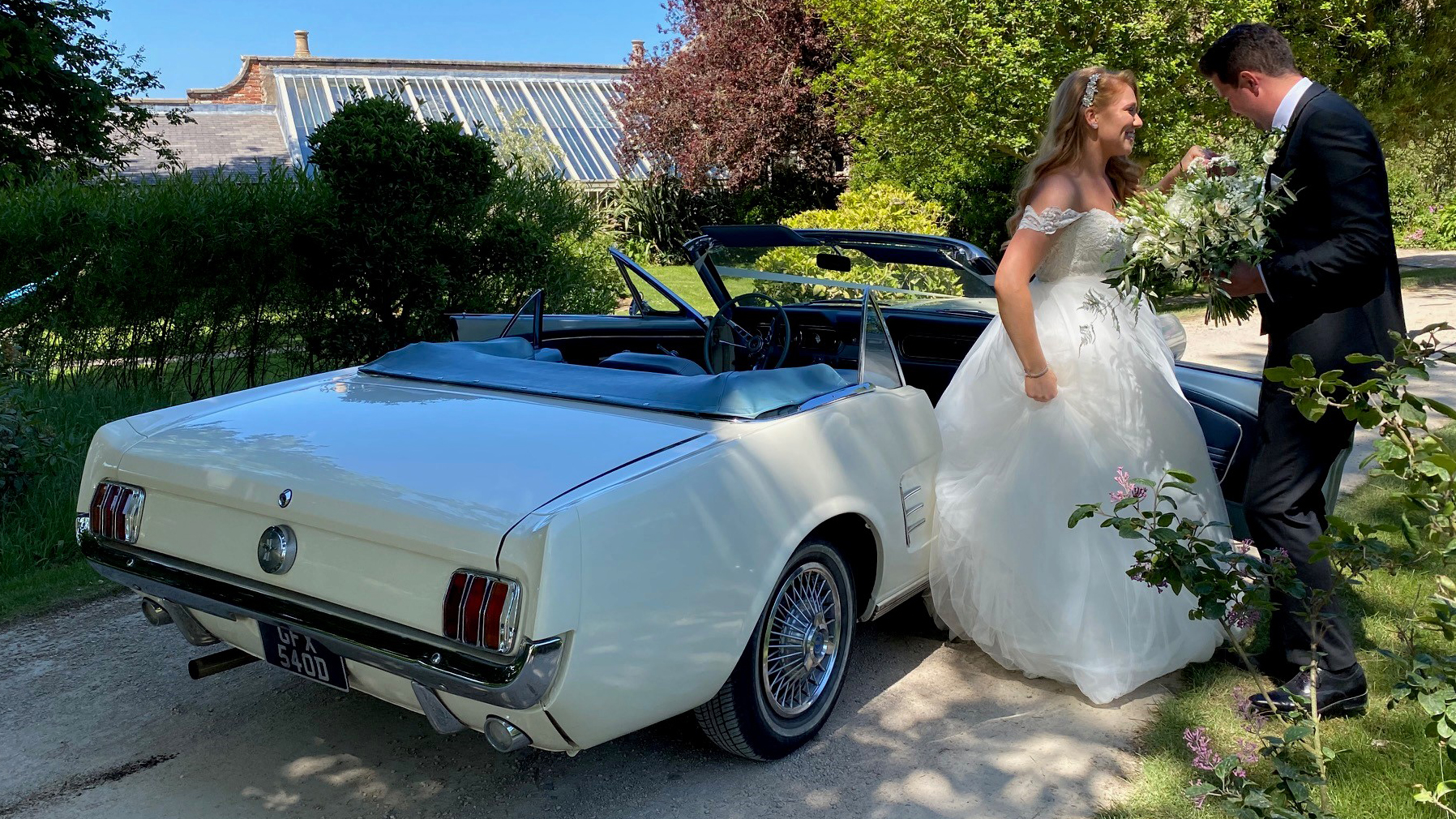 It really made our day.
Just wanted to say thanks for the Mustang, It was great and so was Nev too. It really made our day. Thanks, Brad & Jess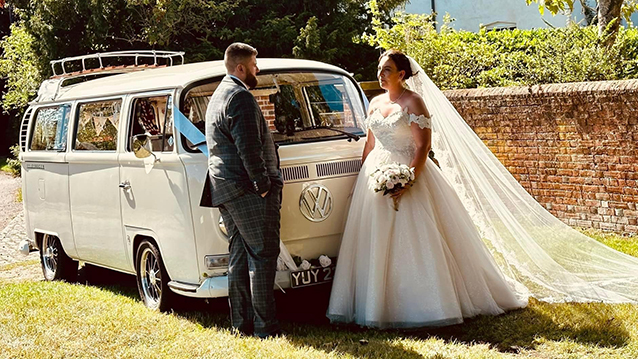 Punctual and super friendly
Simon co-ordinated my wedding transport perfectly. He was punctual and super friendly. The camper was beautiful and decorated to perfection. It was a real talking point to our guests and they all loved it! Thank you so much for being a part of our big day!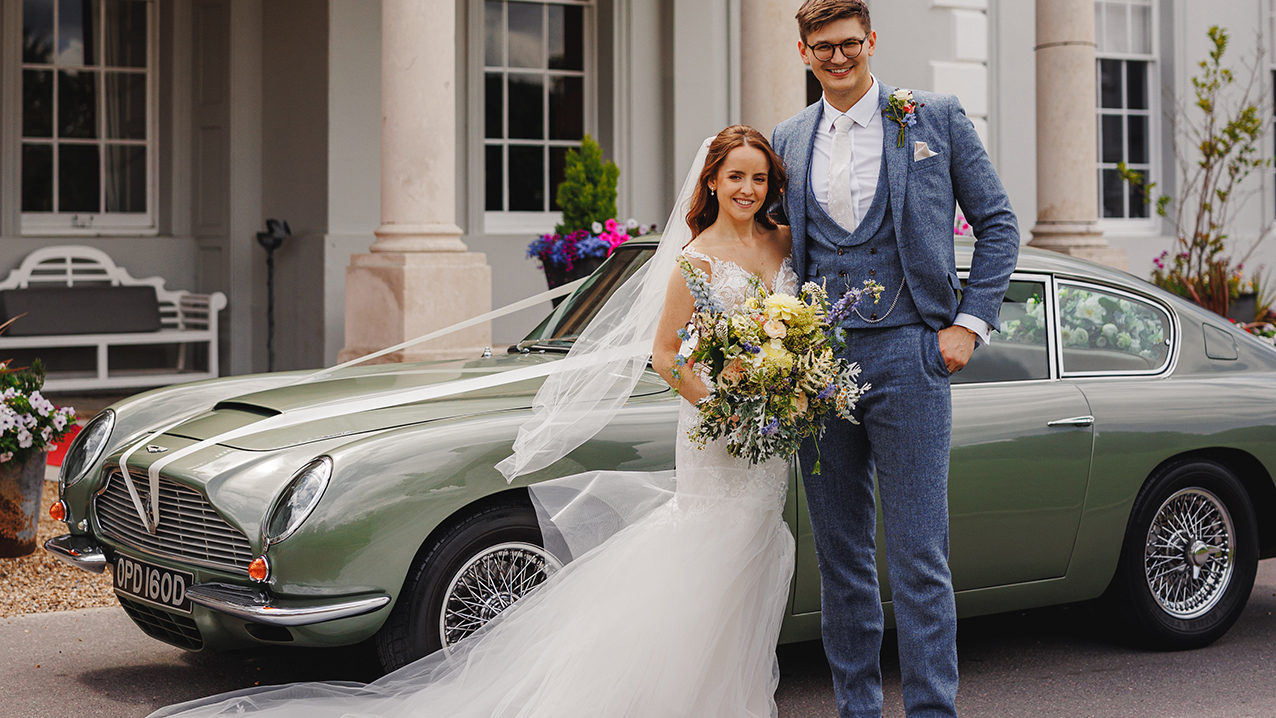 The service we received was brilliant
We really recommend Adrian and his car! Firstly, the service we received was brilliant. A kind driver, really easy to talk to and was genuinely a delight to travel to the church and venue with! He was dressed smart and went above and beyond for us. The car itself is beautiful. The colour is rare and eye catching, the interior is clean and sleek too. We had many compliments on our choice and turned lots of heads! I'd also like to add how smooth the journey was. I suffer with bad motion sickness, so was a little anxious about our 30 minute drive down windy lanes. But I was comfortable and at ease! Thank you for making our day so special! Thank you again, Verity & Greg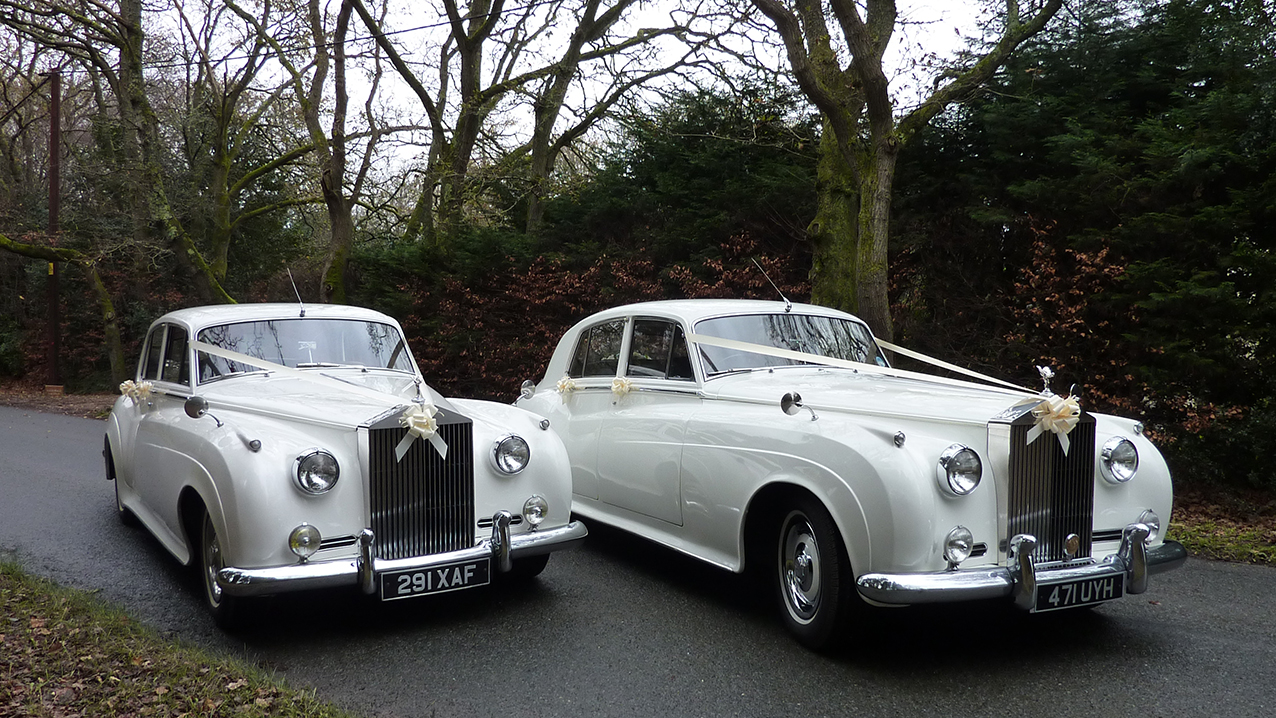 They looked superb and the drivers were very gracious
Afternoon Didier, Thank you so much for all the arrangements that were made with the cars that we used for our Wedding on Friday. They looked superb and the drivers were very gracious with our time keeping which didn't go to plan. We appreciate all your help. Best regards, Lee and Si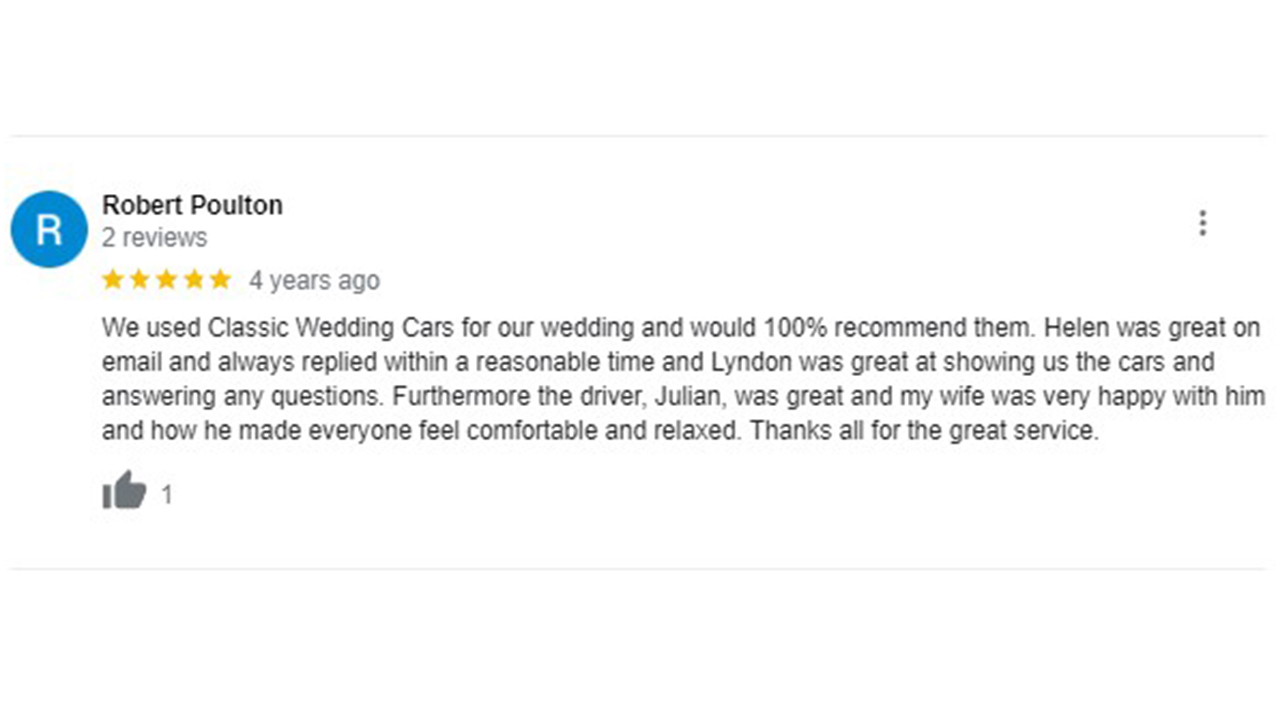 100% recommend them
We used Classic Wedding Cars for our wedding and would 100% recommend them. Helen was great on email and always replied within a reasonable time and Lyndon was great at showing us the cars and answering any questions. Furthermore the driver, Julian, was great and my wife was very happy with him and how he made everyone feel comfortable and relaxed. Thanks all for the great service.
We cannot praise the service enough
We cannot praise the service enough. The car was everything we expected and more! It was clean, excellently driven and we felt so at ease. The driver was friendly and professional, and we would highly recommend.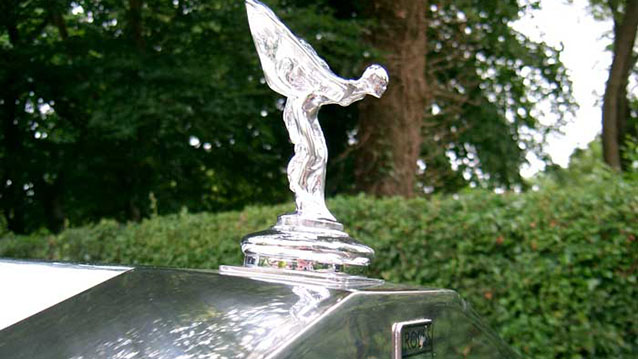 your customer service is fantastic
Hi Didier - I would like to thank you again for dealing with everything so speedily and efficiently, your customer service is fantastic!! Kind regards, Helen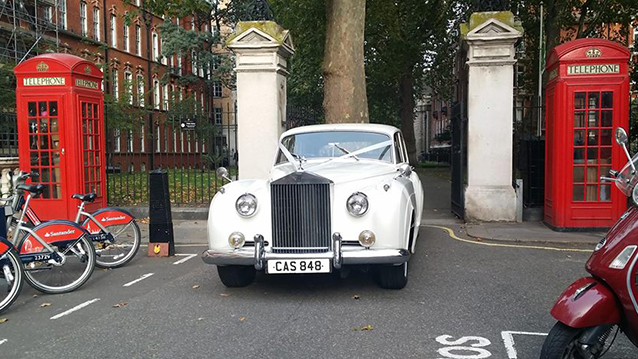 beautiful wedding car
We wanted to write to say thank you for arranging our beautiful wedding car! We had such a wonderful day - it was so special and we will always treasure the memories. We really enjoyed being chauffeur driven in the gleaming white Rolls-Royce! It was such a great experience! Please pass on our thanks to Colin who was our chauffeur on the day for his excellent driving and professionalism. With very best wishes, Natalie and Oliver.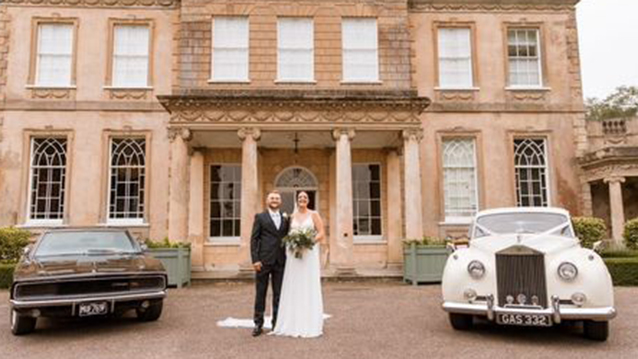 Such a brilliant service and so easy to deal with!
Hello! I just wanted to send a message to say thank you to our driver Paul and premier carriage who supplied our rolls Royce silver cloud on Saturday for our wedding. Such a brilliant service and so easy to deal with! Will highly recommend you for any car hire needs. Many Thanks again, April & Lee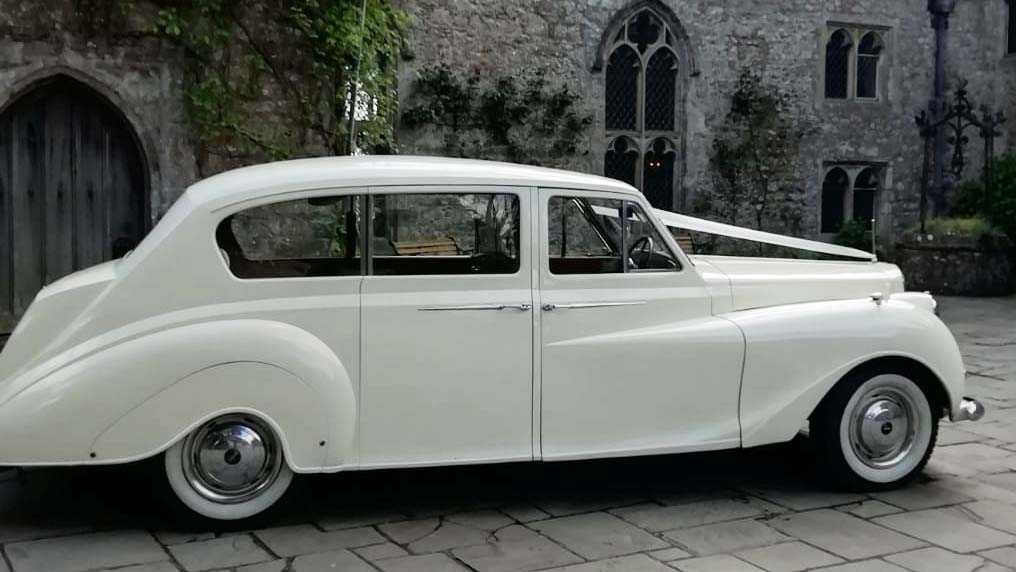 A huge thank you for making the journey so special
I wanted to drop you a note to say a huge thank you for making the journey from Mount Edgcumbe to Kingdom, so special. It was so lovely to travel in style to the wedding venue and through areas I had grown up in, alongside my Dad. I know he enjoyed it immensely and it really elevated the day for him. The whole experience from meeting you and seeing the car back in 2021 with my mum and dad, through to the ease of communication in the build-up to the day and of course, the wedding day itself including all the photos was just fantastic. Thank you for making the day so memorable, it really felt like nothing was too much trouble and everything went seamlessly, for which I'm very grateful. Wishing you all the very best, Jem . PS. Sorry again for making you crouch behind the car door and hold it open for our wedding photos - that's serious dedication!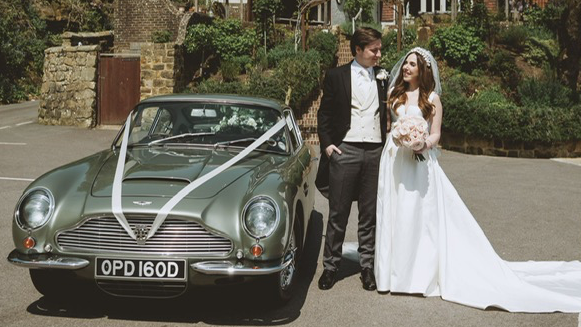 Extremely professional and friendly
"Adrian is extremely professional and friendly and his car is amazing! We had a last minute change of plan during the wedding meaning we had an extra 5/10 minutes to spare whilst we waited for our guests to get to the venue first. This was absolutely no problem for Adrian who therefore took us on a longer route, around the country lanes close to the venue. This meant perfect timing for turning up to our venue. We really cannot recommend Adrian enough - ten out of ten!" - Tessa & Harry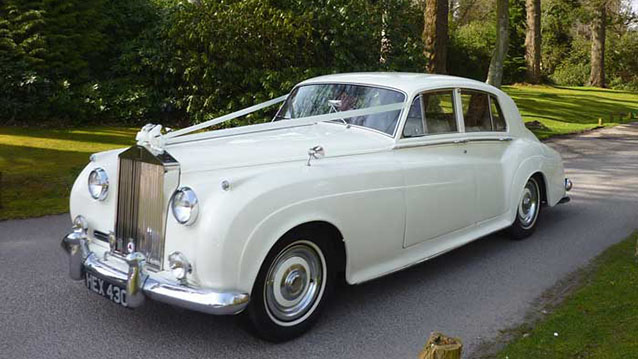 It looked beautiful and was such a special moment
I wanted to thank you for our wedding car on Saturday 17th to St Bartholomew's Church from The Barn ah Avington. It looked beautiful and was such a special moment, both going to the church with my parents, and returning with my new husband!! In particular, I wanted to say how brilliant Jerry our driver was. He was very early (which out a nervous brides mind at ease!) and so kind, helpful, gentle and friendly. He kept my dad laughing with stories from the Navy and was happy to stay afterwards until the photographer arrived for some more photos. He pulled over in the shade so i didn't arrive at the church too early, and came up to us after the church to offer me some water as it was a very hot day. It's the little touches like that, that show a true professional and we were very lucky to have Jerry driving us at the wedding. Please pass on my thanks to him. Best wishes, Catherine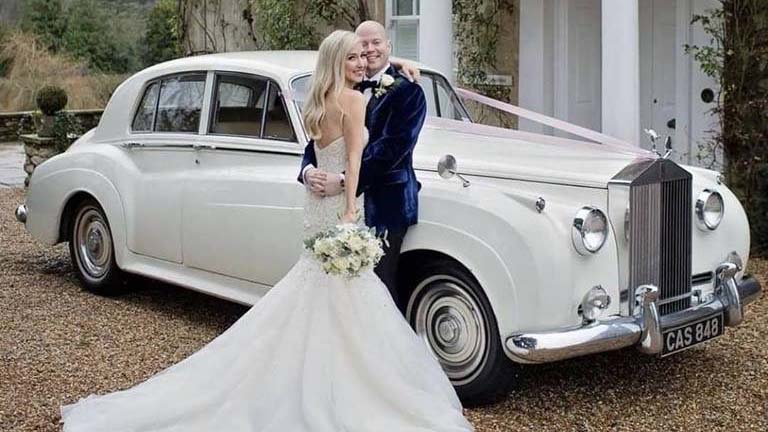 We made an excellent choice
Although Oliver and Natalie will be writing to you separately upon returning from their honeymoon, my wife and I wanted to thank you in the meantime for the classic car hire arrangements for their wedding last Saturday. We made an excellent choice with the Rolls-Royce Silver Cloud ll (CAS 848) and Colin the chauffeur complemented it wonderfully. With many thanks once again, Best wishes, John & Debbie D.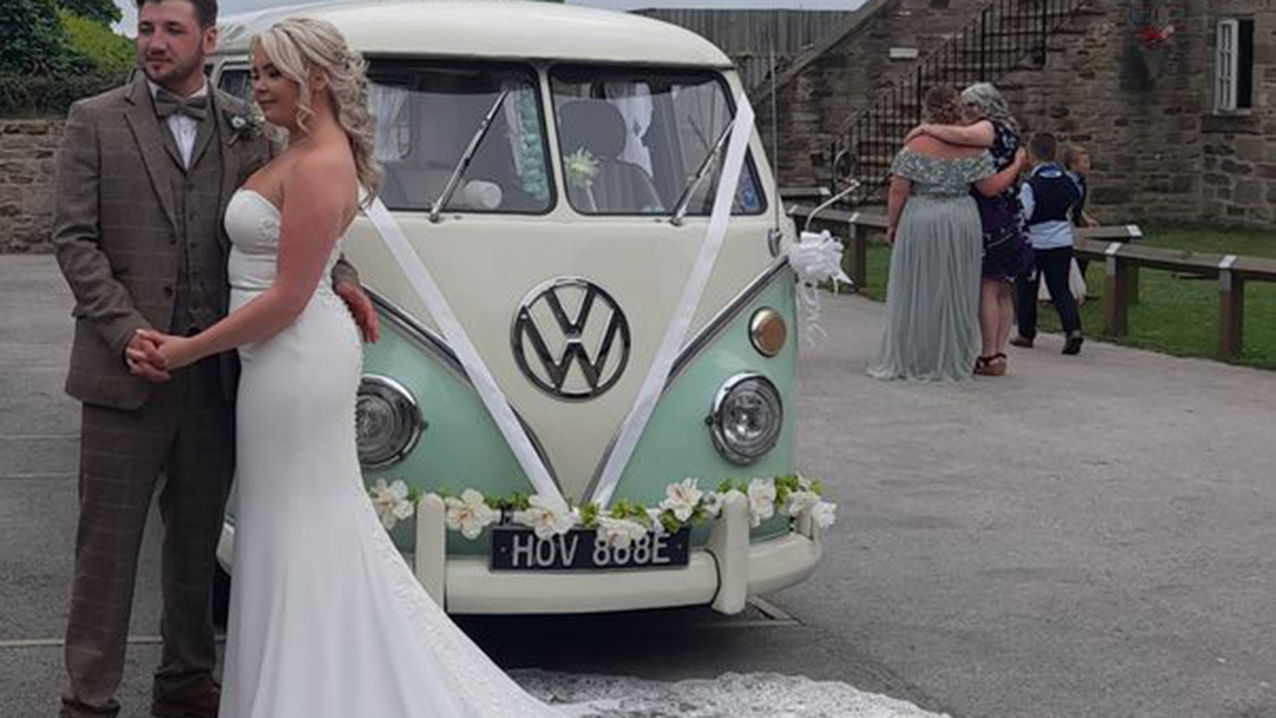 Excellent service
Very well organised. Easy booking process. Very quick at responding to my many questions. Called a few days before the wedding to re-check all the details. On the day, the driver was very friendly, polite and nothing was too much trouble.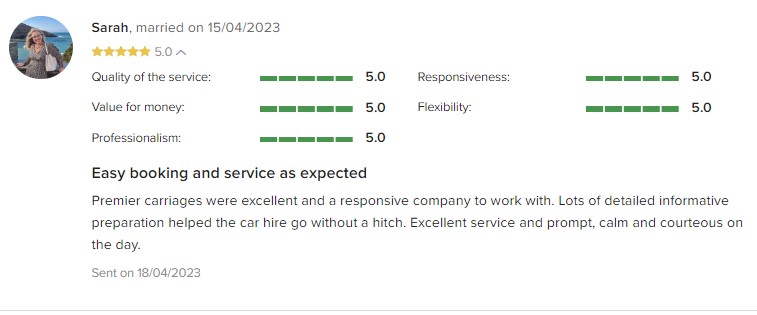 Easy booking and service as expected
Premier carriages were excellent and a responsive company to work with. Lots of detailed informative preparation helped the car hire go without a hitch. Excellent service and prompt, calm and courteous on the day.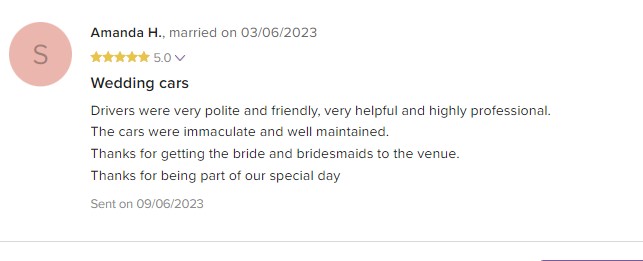 Wedding cars
Drivers were very polite and friendly, very helpful and highly professional. The cars were immaculate and well maintained.Thanks for getting the bride and bridesmaids to the venue. Thanks for being part of our special day.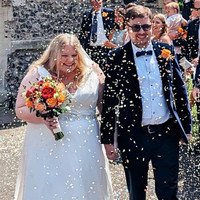 Really great wedding cars
Really great service! The cars on the day were very prompt, smart and had air con (which helped a lot in the heat!). The drivers were also very professional - I'd definitely recommend!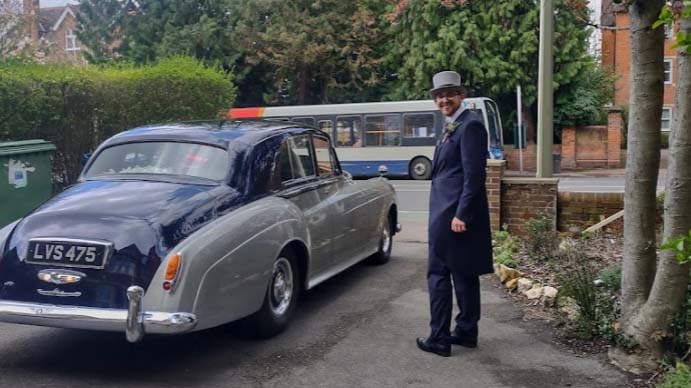 The car was gorgeous and in fantastic condition
We hired a chauffeured Bentley S2 for our wedding in central Oxford and it made a perfect addition to the day. Not only was the car gorgeous and in fantastic condition, but the driver Marc was absolutely lovely - he helped keep everyone calm with friendly conversation during the drive and whilst waiting. My wife especially appreciated having someone to chat to to keep her calm before the wedding ceremony!It was a busy day in Oxford and there were lots of tourists and a folk festival full of morris dancers to navigate on the route (the car needed to drive through a mostly pedestrianised area) but we made the journey with no hitches or delays, and Marc navigated the crowded areas with no tourists or morris dancers harmed. The day included three trips for the car to bring people to the church before the ceremony and one to take the couple to the venue.The Premier Carriage website was easy to navigate and the representatives were responsive to non-standard requests like adding an extra trip to take the groom and ushers to the church.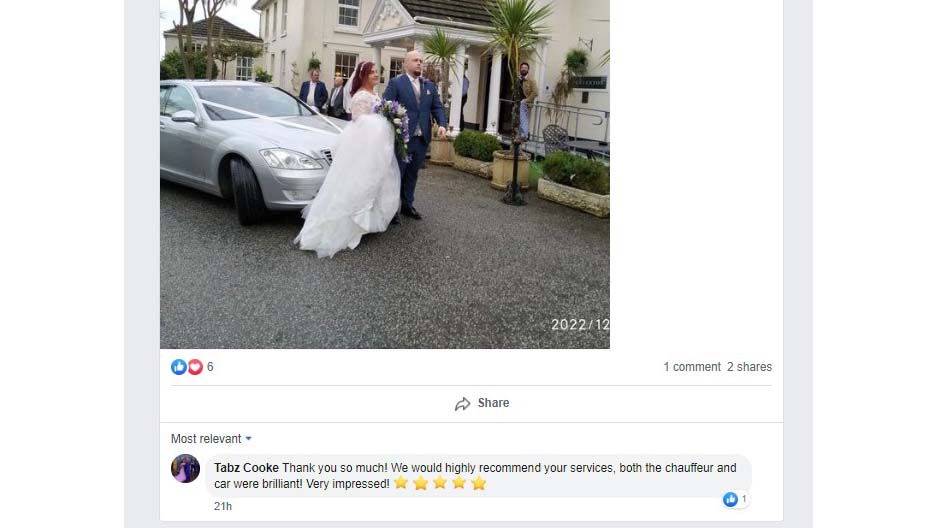 Very Impressed!
Thank you so much! We would highly recommend your services, both the chauffeur and car were brilliant! Very impressed!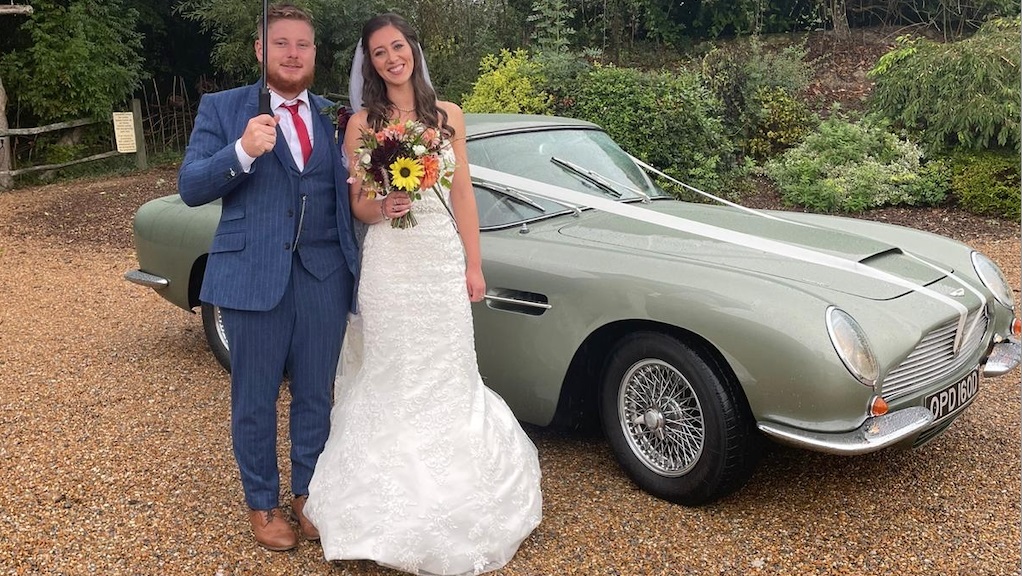 Very friendly and a brilliant driver
Adrian was very friendly and a brilliant driver. The weather was awful on our day, he greeted us with a huge umbrella and ensured we stayed dry. He made us feel very welcome and was great to chat to, helping settle our nerves. The car was beautiful and immaculate inside. We really enjoyed the journey in this spectacular car which I would never be sat in again, so glad we had it for our wedding day! Lauren & Billy